SD Pro® for Government
Improve situational awareness and efficiency of your mission with more data-driven, timely decisions at every stage of flight.
The ultimate source of data for your mission
SD Pro is a leading communications and operations platform for aviation. Accessible on a desktop, laptop, and mobile device, it delivers all key information in a centralized ecosystem for more data-driven, timely decisions. It's a customizable platform that optimizes workflows and simplifies communication across operations.
Mission Planning to After Action Reporting: Operational Support
Autonomous. Timely. Accurate
SD Pro has the ability to synchronize information from flight planning software, SATCOM systems and aircraft datalink into a single dashboard, allowing operators to plan, manage, and operate communications effectively.
Automated calculations for ETE allow for accurate planning
Plan ground transportation, catering, lodging, and fuel
Crew, Passengers, Cargo, FBO, Requester, Planner, and Approver are all captured
Generate Crew, Passenger, Cargo, and Arrival/Destination Itineraries
Send trip information to Dispatch Services for flight plan generation
Search and store preferred  ground services for all airports
Create custom locations including FBO, base operations, and ground services
Assign preferred vendors for services at each airport or base
Centralized location to store aircraft and travel documents
View and track crew currency plus other unit-defined training requirements
View upcoming and historic trips for the entire fleet
Configurable to view individual legs/sorties or entire trips
Configurable to view in weekly or monthly calendar
Configurable to see only the details that matter to the user (crew,
passenger count, cargo, last known location)
View departure and arrival times in GMT or airport local time
Aircraft and crew calendars can be displayed individually or on a shared screen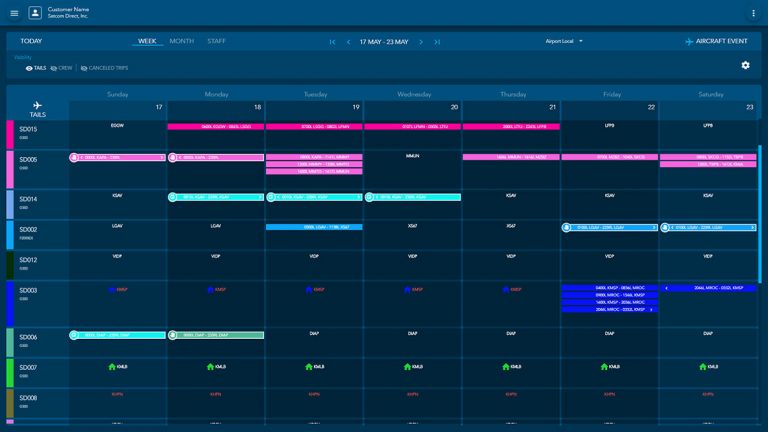 Depending on which systems are interfaced, flight performance data is automatically captured and shared throughout the flight, keeping all mission team members informed without the need for manual communication.
Automated Alerts (ETA updates, connectivity usage, and customized alerts)
Real-time Command and Control (C2)
Position Reports
Flight Tracking
Static and Dynamic Route Alerts
Security Alerts
GeoNotifications
Network Performance Visibility
Troubleshooting Tools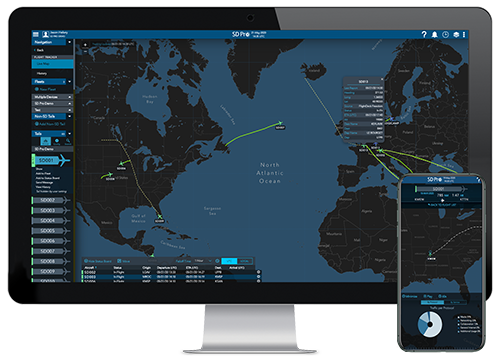 Displays real-time aircraft connectivity status and usage levels, with alerts and notifications to highlight any performance or operational issues.
Continuous, real-time view of aircraft connectivity
Manage communication services, network performance and access
View connected devices and bandwidth use (dependent on hardware)
Monitor voice and data usage – by month, by flight, by call or session duration
Control costs by setting alerts for when usage levels exceed defined thresholds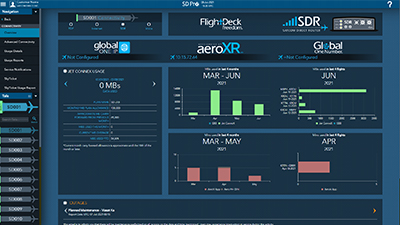 After Action Reporting (AAR)
Using the advanced connectivity module, create AAR reports to replace the flight showing communications throughout, highlight any trouble spots, and view aircraft location in relation to satellite network coverage.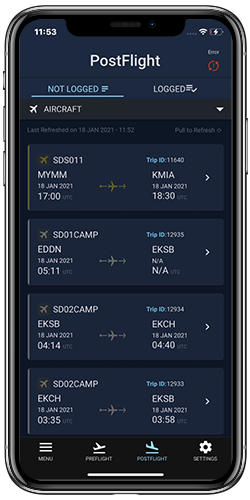 To learn more about our flight deck solutions, call us today or fill out the contact form.