General Aviation
Communications systems and carry-on satellite devices for light aircraft that offer reliable global voice, data, and aircraft tracking. Ideal for search and rescue, air medical, law enforcement, military, firefighting, and private aircraft.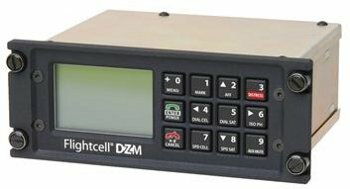 Compact All-In-One Solution For Fully Global Voice and Data
Designed for general aviation, this integrated cockpit solution for satellite and 3G/4G/LTE cellular communications delivers clear voice calls, canned or free text, email, and aircraft tracking. Operates over cellular networks when in range or over the Iridium Certus satellite network in more remote locations, with seamless handover between them for full global coverage. 
Small, lightweight device with minimal wiring for easy installation. Robust design to military-grade standards. Easy to use with familiar keypad layout and back-lighting that is night-vision compliant. Make calls from the keypad or a connected smart device using the DZMx Connect app. 
Flexible combinations of built-in satellite and cellular modems available, plus the option to add an external Iridium handset. Supports multiple wired and wireless connection options for user devices. An additional Remote Head unit provides access to all DZMx functions from another location on the aircraft.

Iridium Carry-on Satellite Devices
Handheld Satellite Phones and Smart Device Connectivity Units
Suitable for general aviation, SD offers carry-on mobile satellite communications devices for calls, text, email, and internet, including the Iridium 9555 and Iridium Extreme handheld satellite phones, and Iridium GO! for using a smartphone or tablet over satellite.
To learn more about our flight deck solutions, call us today or fill out the contact form.