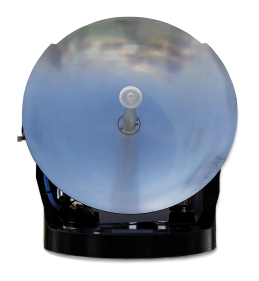 Ka-Band Multi-purpose Terminal For Global High-throughput Services
Modular, highly reliable, multi-role aviation terminal that enables fully interoperable worldwide connectivity across Inmarsat Global Xpress, military Ka and the Wideband Global Satellite (WGS) system. Compact, lightweight antenna available in a 30cm and 46cm design that is fully integrated with modems, electronics and software. Combines high performance, reliability and maintainability for a total cost of ownership that makes it suitable for a variety of government airframes, including mission aircraft, UAVs, Vertical Take-off and Landing (VTOL).
Delivers superior RF performance for optimal data rates and bandwidth efficiency even in the most demanding airborne conditions. The very high return link capability is designed particularly for ISR missions. Standardized system with three line-replaceable units: antenna, Ka power supply unit and modem. Shipped pre-configured and pre-tested for installation within a few hours.
Contact the SD team to find out more.
To learn more about our flight deck solutions, call us today or fill out the contact form.